Advantages of using frozen semen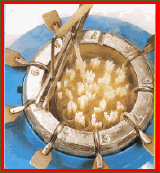 It can be kept for hundred of years, without loosing it viability. The genetic lines can be kept for the future. Even after the death of the donor.
The use of frozen semen can be rotated with natural breeding.The inseminations can be done in different locations/ places and it avoids the transport of the bitch, avoiding stress and decreasing the transport costs.
The use of frozen semen keeps the dog free of sexually transmitted diseases, such as bacterial and viral, brucellosis, Herpes virus, Mycoplasma, etc..all of which could be devastating for your breeding dogs.The transport of frozen semen increases the commercial capacities of your breeding male throughout the whole world.
If you are interested in imported semen, plan it with enough time, because each country has its own international regulations for import, export and registration of litters originated from frozen semen.